When logged in, a black menu bar across the top of the page will appear. This is the admin menu. The Administrator Admin Menu is used to manage everything about a site. Click on the Manage section to see options of Content, Structure, Appearance, Extend, Configuration, People, Reports and Help.
 

Note that the options in each menu will vary depending on the user roles you have been assigned.
The easiest way to locate, edit, and delete existing content is with the Content view, accessible in the Manage > Content section. Specific actions can be selected directly from the drop down Content menu.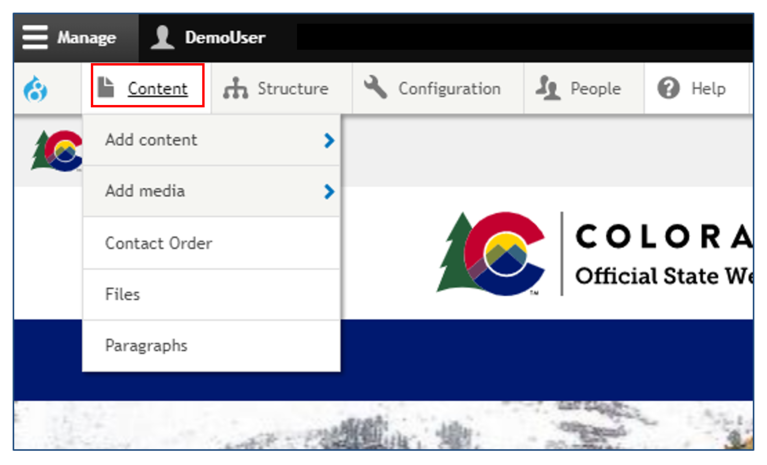 The Content view is a sortable table that shows all site content. Access this view by clicking Manage and clicking then Content. Users can filter content under the categories of Title, Type, Published/Unpublished, Language, or Promoted. Additionally, Administrators can add, view, edit, clone, or delete content directly from this view.

Another feature that is available from the Content view is mass operations. Mass operations allow the active User to delete, make sticky or unsticky, promote or demote, publish or unpublish, save, or update the URL aliases for multiple pieces of content at a time.

Within the Content view the Administrator can also manage Layouts, Files, Paragraphs, Scheduled Updates, and Media.

The Structure menu lets the Administrator structure and format content for individual pages as well as the entire site. By hovering over the Structure tab, a drop-down menu of all editable processes appears. When the Structure tab is clicked the active User is taking to a page with short descriptions of each of these.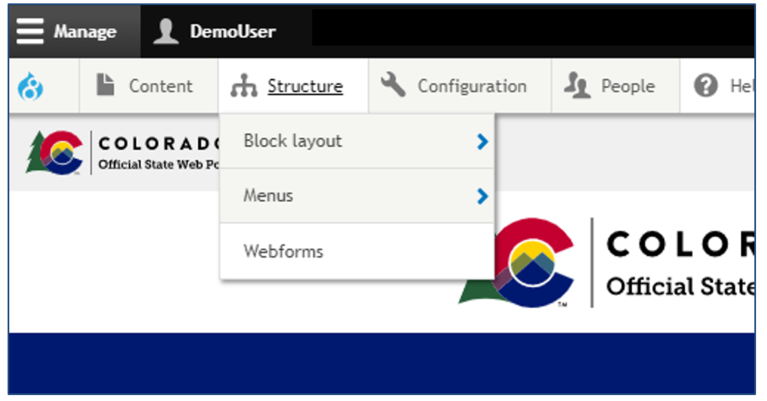 The Configuration menu is where the Administrator can manage settings for the entire site. When Configuration is clicked, the active User is brought to a page with descriptions of each of the configurable groups.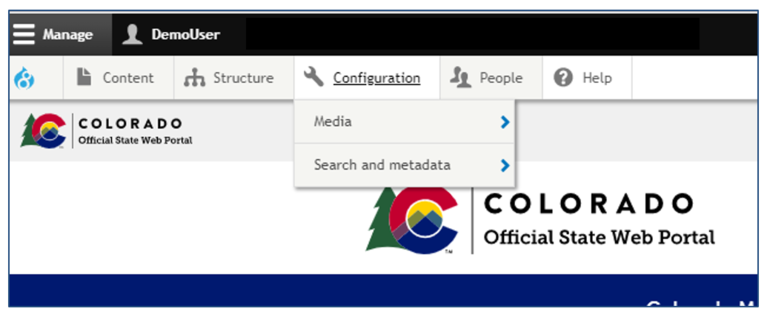 When People is clicked in the Manage menu, the People view appears. Under the People view, the User Admin can search for Users by filtering based on name or email, status, role, and permissions. The Administrator can also add new users or update current users.